Watch
tyleroakley: I guess that spray doesn't prevent all split ends. Wow. And also oops.
Buying concert tickets used to be exciting. And...
I live in Los Angeles, and one of the many reasons I consider this to be a great thing is my proximity to really great live music all the time. I now can't remember how one even procured tickets to such events pre-internet, but in my past 5-or-so attempts to buy them I have failed. Was I too slow? No. I'm on the right mailing lists and have pre-purchase codes whenever they're...
JAKE FOGELNEST: GET OFF MY LAWN →
jakefogelnest: These are the iTunes Top Ten Alternative Albums: The Lumineers - Zzz zzz zzz sorry I fell asleep writing this. Mumford & Sons - Babel zzz zzz zzz oops I fell asleep again fun. - Some Nights (that dog. did lower case with a period in the 90's!) Imagine Dragons - We Have The Most Whimsical… Absolute genius. Please read.
dramaticalheart: gamerspirit: Dominoes falling in the form of Van Gogh's Starry Night DID SOMEONE CHUCK A DOMINO WHEN THAT ONE SWIRL DIDNT FALL im PISSING
Group of Men Have Played Game of Tag for 23 Years →
perzadook: "What they didn't know was Sean Raftis, who was "It," had flown in from Seattle and was folded in the trunk of the Honda Accord. When the trunk was opened he leapt out and tagged Mr. Tombari, whose wife was so startled she fell backward off the curb and tore a ligament in her knee. "I still feel bad about it," says Father Raftis, who is now a priest in Montana. "But I got Joe." ...
3 tags
Reality TV parent: "My kids mean the world to me." Reality TV parent, had that existed in the 80's: "Yeah, I have some kids. Who doesn't? They're okay, I guess. Hey, am I REALLY on TV?"
Watch
kellysue: abloodymess: velveteenrabbit: Never seen skateboarding like this holy fuckballs. The kids are alright. That last trick dropped my jaw. Thanks to @samhumphries for the link. Skateboarding has finally become so insane that I feel 100% comfortable picking it back up and not looking too yawningly old school. Who the hell (else) can even do this shit?
Watch
Congratulations, Vanilla Ice. Short of slinging salad shooters, you've done most everything. #zumba #theview
I recorded a Christmas song back in 2008. It is my...
Perhaps the Mayan calendar just "predicted"....
the day the Facebook/Instagram world was ending and not the real physical world we used to be content with. It's gotten to the point where every day I ponder deleting my account, but then feel like that represents some sort of social withdrawal or hermitage. Or that it will affect my ability to obtain work as a freelancer. And being self-employed working from a home studio, social media is...
American Aquarium Drinker: Relevant to the news of... →
daveholmes: One afternoon long ago, I was walking down 1st Avenue with my friend Jancee, who was getting ready for her first interview with the one of the editors of the New York Times SundayStyles section. She went over some story ideas she wanted to pitch the guy, we discussed them, we stopped at a bodega…
My election day anthem since 2004: Jimmy Eat...
512 Paths to the White House →
Explore the routes through the electoral battleground and plot victory for either side.
Watch
Scariest thing I've ever seen. Must be stopped.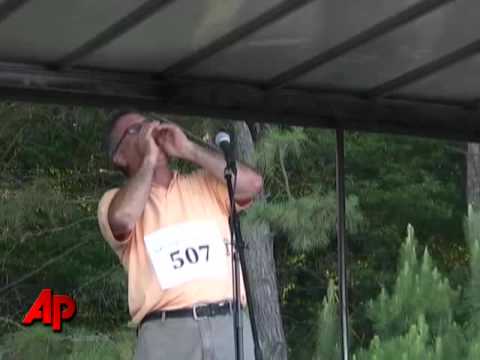 Do yourself a favor and order this now.
laughterkey: mattbraunger: My hour special "Shovel Fighter" is available for pre-order on DVD here: http://say.ly/Wew3wFh. Airs July 14th. Vinyl out the 17th. Pls RT! View more on WhoSay » Headline's mine. But get on it.  DO IT, PEOPLE. I say this not only because Matt's absolutely hilarious, but because I did theme and incidental music that I'm very proud of.